VC4A is looking back on a productive year and gearing up again for 2018!
As the year comes to a close, we are so fortunate to be able to look back on a productive year made possible by our friends and colleagues. We are thankful for your continued support, enthusiasm and constant willingness to collaborate.
Through the efforts of VC4A's more than 400 ecosystem-building partners, the African startup community has successfully opened a new chapter of growth again in 2017. Fueled by an expanding pool of entrepreneurial talent ready for investment, there are now a growing number of businesses well positioned for regional and international growth.
Beyond testimonials, we have a growing amount of data and hard evidence that clearly explains the African startup opportunity (see the Summary 2017 VC4A Research Report). Indeed, a new class of company has emerged in the African startup scene this past year, and where 2018 promises record-breaking fundraising activity and a new windfall of success stories.
Unlocking Knowledge
This progress is built on an improving infrastructure for starting entrepreneurs championed by a truly dedicated network of professionals. Heartening to see, is an increasing willingness among players in the industry to collaborate in this shared effort and where we have been able to partner with so many outstanding organizations and teams this past year. Beyond MOUs, program announcements and countless panel discussions, the real progress is being made behind the scenes. Mentorship, shared learnings and an unwavering willingness to support the continent's aspiring entrepreneurs drive these efforts.
Moving forward, more needs to be done to make startup infrastructure inclusive.
Most notably, with the support of so many leaders in the industry, it was possible to crowdsource a world class collection of insights and make them freely available as part of the VC4A Startup Academy. Leading investors and entrepreneurs pass on wisdom earned over the course of their careers as they've built companies, invested in startups, and raised venture capital.
Where talent might be distributed equally, access to opportunity certainly is not. Here we offer a concrete example of how working together it is possiblt to break down these barriers to knowledge, and to actively build on the premise that every aspiring entrepreneur should have a fair chance to bring their ideas into the world. The VC4A Startup Academy is designed to empower founders to take their business to the next level, and where an effort like this is core to our commitment to help entrepreneurs enhance their capabilities by providing the necessary FREE access to knowledge and expertise.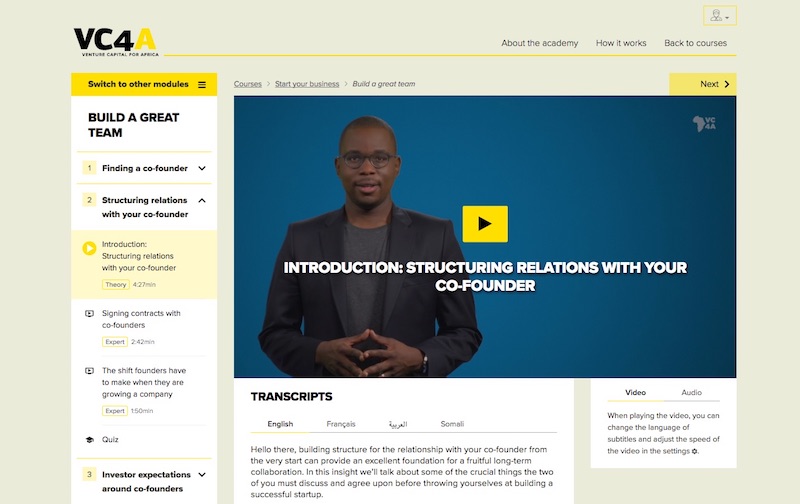 The VC4A Startup Academy is unlocking knowledge to a new generation of founders coming up across the African continent.
The Academy offers direct access to expertise proven to work for successful industry leaders. Founders can take their business to the next level by learning from carefully crafted insights, an extensive collection of downloadable tools and targeted advice from 70 experts active in the emerging African startup ecosystem.
This learning environment is broken down into three courses, each focused on a different life-stage of a new venture. The first course is called, 'Start your business', and introduces participants to main themes to consider during the founding stage of a startup. Course two is 'Grow your business', and covers what's needed after a startup finds its feet and is ready to scale up. And course three, is 'Finance your business', introducing different funding concepts and tips on how to raise capital. We are quickly adding new content and will be pushing new production efforts again in 2018.
A special thank you to Academy contributors Ndidi Nnoli Edozien (Lagos Business School), Rebecca Enonchong (AppsTech), Tomi Davies (Lagos Angels Network), Brett Commaille (Angelhub Ventures), Chams Diagne (Talent2Africa), Stephen Haggard (Eneza Education), Ike Eze (Tranzact), Lexi Novitske (Singularity Investments), Aaron Fu (MEST Africa), Fabian Guhl (Ampion Africa), Justin Spratt (Uber Africa), Viola Llewellyn (Ovamba), Charlene Chen (BitPesa), Dima Rifai (Paradigm Change Capital), Ibanga Umanah (Brave Venture Labs), Yemi Keri (Rising Tide Africa), Juliet Wanyiri (Foondi Workshops), Simeon Ononobi (SimplePay), Aurelien Duval-Delort (Orange Telecom), Stephan Breban (Dean Wetton Advisory), Fatoumata Ba (Jumia), Emeka Afigbo (Facebook), Russell Southwood (Balancing Act), Peter Allerstorfer (Silvertree Internet Holdings), Vusi Thembekwayo (Watermark Afrika Fund), Sylvie Dalode (Strategic Bridges), Wim van der Beek (Goodwell Investments), Dotun Olowoporoku (Starta Advisory), Tom Jackson (Disrupt Africa), Maxime Bayen (GSMA), Isaak Mogetutu (mFarm), Erick Yong (Greentec Capital Partners), Andrea Böhmert (Knife Capital), and Danai Musandu (Goodwell Investments).
Integrating Support Systems
With this Academy, the VC4A community unlocks this knowledge in a way that makes it more accessible to a new generation of founders coming up across the continent. This is the beginning of a much larger effort to collaborate with partners in the ecosystem, and where VC4A looks to integrate this infrastructure for maximum relevance and impact. The Academy is designed as a self-learning tool, but where VC4A is working with a pan-African network of incubators and accelerators to integrate this curriculum into programs on the ground. Partners use the Academy in combination with face-to-face discussions and in-person sessions to further strengthen the support offering made to entrepreneurs and to maximize the synergies between physical and virtual infrastructure.
In supporting these efforts, and to further ramp up the number of opportunities made available to entrepreneurs, we also leverage the VC4A.com platform for the promotion of our partners, and to host the application and selection processes for their initiatives. We do this on behalf of partners like Amref's Innovate for Life program in East Africa, Seedstars Africa, Village Capital Fintech program, iHub Traction Camp, the Nigerian Economic Summit, the Mobile Africa Series, 2017 Africa Business Forum, Pitch Agrihack Challenge 2017, the 2017 Green Challenge, Startup Bootcamp South Africa, XL Africa and many others.
If you are interested in making use of these tools, while also tapping into the mentorship marketplace and investor network, please contact me directly at ben@vc4a.com. We are constantly welcoming new partners to the network and encourage interested organizations to contact us!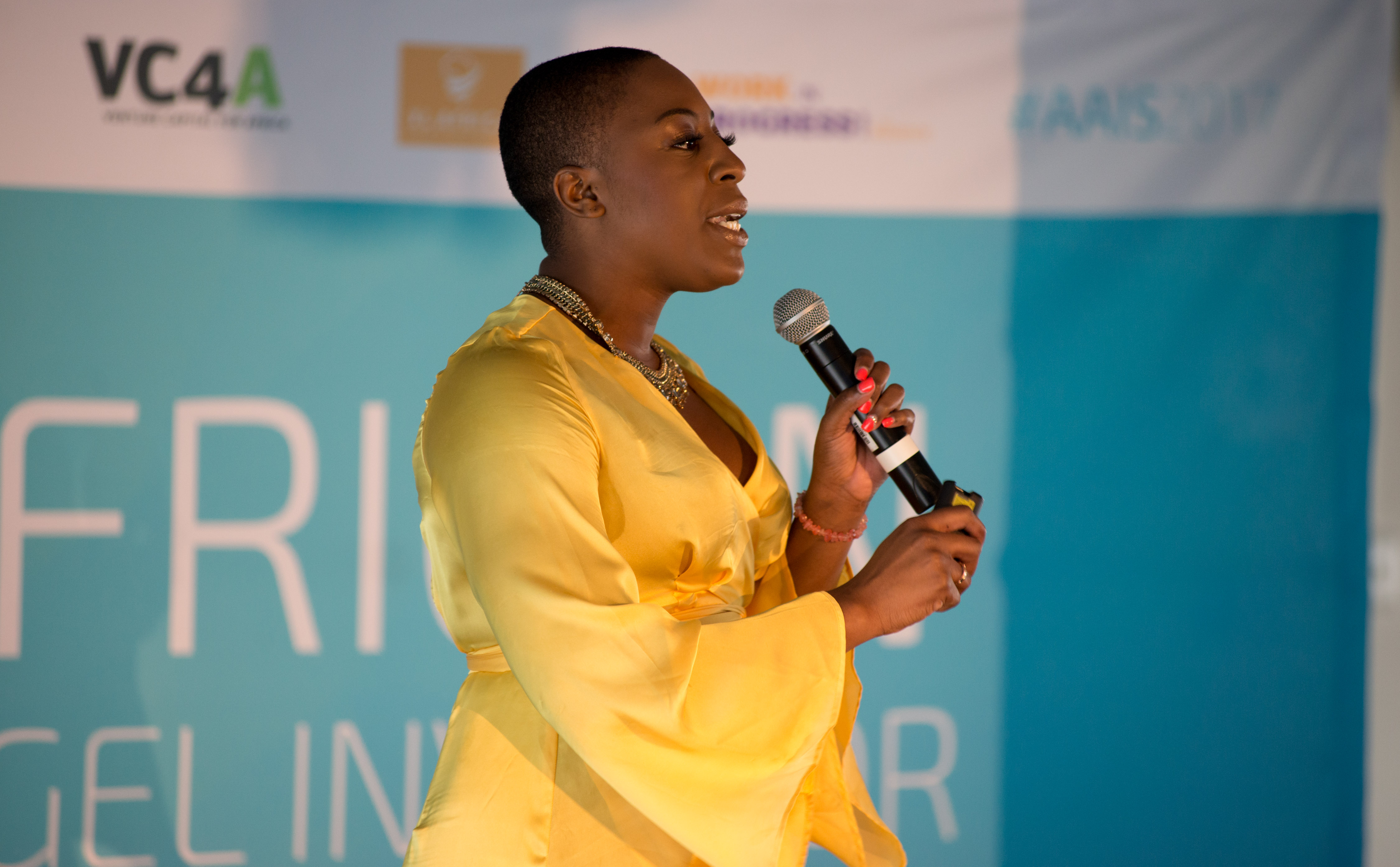 Chika Uwazie, TalentBase Nigeria founder and XL Africa participant, pitching on stage at AAIS2017.
Mentor Driven Capital
Mentorship is another critical aspect of our shared mission, and a constant effort driven by the professionals that engage through the VC4A Mentorship Marketplace, through the more than 60 Angel investing groups coming up across the continent, and through the many dedicated incubation and acceleration programs we support.
VC4A works closely with our partners at AfriLabs and the African Business Angels Network (ABAN). Through many shared initiatives we are able to champion and support the excellent work done by friends at Angel networks like the Cairo Angels, the Lagos Angels Network, and Viktoria Angels/VBAN. Also by our acceleration partners at She Leads Africa in Nigeria, Innovate Ventures in Somalia, Innoventures in Egypt, and the GIZ Make-IT Accelerator with CCHub in Nigeria and NaiLab in Kenya. Each network and program is offering the hands-on support and structured guidance entrepreneurs need.
We know all the money in the world can't guarantee startup success. And more valuable than capital, it is the time and expertise made available by seasoned professionals willing to engage and support the next generation of founders eager to follow in their footsteps. It's the personal introduction these individuals make to a new partner or client that really makes the difference for a starting company.
Mentorship is also a great way for Africans living outside the continent and others interested in the African markets to become involved. Founders are keen to tap into new geographies and strategic assets that can be unlocked in through these cross-border exchanges. We see the diaspora communities ramping up their efforts, fueled by a growing number of Africa focused events hosted annually by our partners and friends at the African Diaspora Investment Summit (San Francisco), the African Tech Summit (London), AfroBytes (Paris), and AfroLynk (Berlin). Many new initiatives are in the works and coming up in the year ahead, and where these meetings offer a critical point of access for communities eager to engage.
Promoting the African investment opportunity
A sign of how far we have come is illustrated in offerings like XL Africa, an innovative post-acceleration program we designed with our colleagues at IMC Worldwide and Koltai & Co on behalf of InfoDev at the World Bank. This program set a new milestone for the industry in being able to focus on growth startups seeking Series A funding, between $250.000 and $1.5-million. A program like this was not possible to do three years ago and is a clear example of how far this industry has matured.
Over 900 of the most promising startups across Africa applied to participate in this program, of which 20 ventures were selected by an independent panel of experts (See XL Africa-Portfolio). Mentors, Investors and Corporate Partners from across the VC4A network were instrumental in putting this class of companies together while also supporting these businesses throughout the campaign.
During the Venture Showcase at the fourth annual African Early Stage Investor Summit in Cape Town on Wednesday (15 November), a global celebration for the African focused early stage investor community co-hosted with the African Business Angels Network (ABAN) and the South African Business Angels Network (SABAN), the XL Africa teams pitched before prominent African investment groups to present their internationalization strategy and fundraising needs. These companies represent a new generation of success stories, with many new partnerships and deals in the process of being closed, and where a convincing showcase of the continents talent and potential for investment has been made.
Championing opportunities outside the continent remains a critical task, and where the end goal is to get more resources into the ecosystem. We are pleased to also support critical events like the High Growth Africa Summit (Lagos), the African Arena (Cape Town), AHUB at Africa Com (Cape Town), the African Tech Summit (Kigali), RiseUp Summit (Cairo) and the many other important meetings that help keep the conversation on track.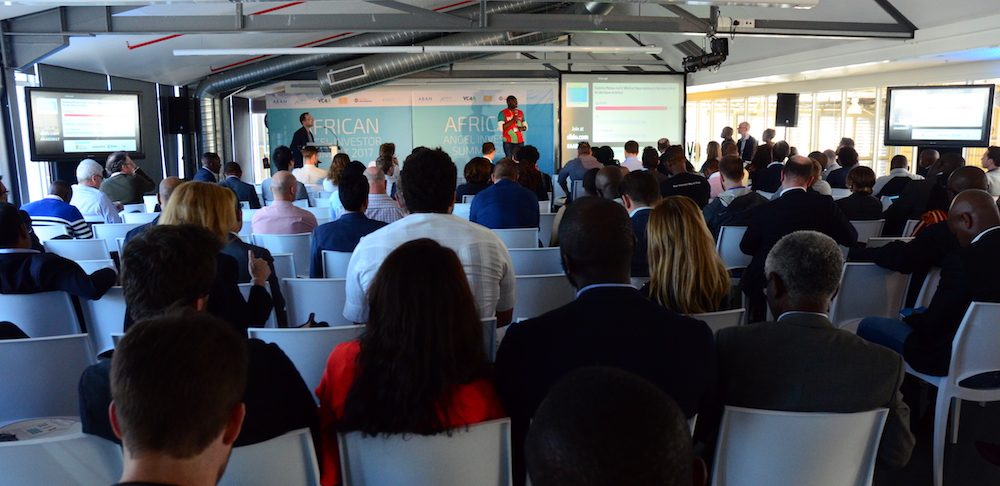 XL Africa participant Tizeti from Nigeria pitching at AAIS2017.
A special thank you our partners, colleagues and friends that made our 2017 efforts such a success. We are thankful for the engagement and continued support we receive from Laurie Olivier, Doug Cherry and Justin Stanford at 4Di Capital, Peter Allerstorfer and Paul Cook at Silvertree Internet Holdings, Lexi Novistske at Singularity Investments, Keet van Zyl and Andrea Bohmert Knife Capital, Aaron Fu at Nest VC and now MEST Africa, Sean Nowak at Zephyr Acorn, Dotun Sulaiman, Tomi Davies, Collins Onuegbu and Nwanne Okafor at Lagos Angels Network, Christopher Cambell and Audrey Mothupiat at SABAN, Michael Seibel, Hasan Haider and Kenza Lahlouat at Outlierz, Wim van der Beek, Els Boerhof, and Danai Musandu at Goodwell Capital, Brett Commaille at Angel Hub Ventures, Abu Cassim at Jozi Angels, Roeland Donckers at IUNGO Capital, Alexandra Fraser at Silicon Cape, Erick Yong and Thomas Festerling at  GreenTec Capital Partners, Hugues Vincent-Genod at Investisseurs & Partenaires, Rodrigue Fouafou at HartNamtemah, Bastian Gotter at SPARK NG, Stephen Gugu at Viktoria Ventures/VBAN, Yosi Hasson at Techstars, Maya Horgan at Ingressive, Khaled Ismail at Algebra Ventures, CK Japeth at Kampala Angel Investors, Philip Kiracofe at Horizen Partners, Jonathan Ortmans at GEN Global, Shudhan Kohli at Grey Elephant Ventures, Andile Masuku at African Tech Round-up, Vincent Kouwenhoven at eVA Fund, Kola Aina at Ventures Platform, Victor Asemota at Africa & Disapora Mentorship, Investment Network, Olawale Ayeni at IFC Venture Capital, Lefteris Bibakis at StartTech Ventures, Sawa Nakagawa at E Squared Investments, Max Pichulik and Tanner Methvin at Impact Amplifier, Anna Samake at AHL Venture Partners, Charles Sidman ECS Capital Partners, Shamin Sookia at Perigeum Capital, Shinta Yoshioka at DMM.Africa, Christian Steinbarth at Spark Liberia, Vasili Sofiadellis at Visions2Venture, Yehuda Raff at iPartners Africa, Stephen Ozoigbo Lions Africa & African Technology Foundation, Vuyisa Qabaka at Entrepreneur Traction, Dotun Olowoporoku Starta, Kizito Okechukwu at 22 on Sloan, Jonathan Ortmans at GEN Global, Isayvani Naicker at Department of Science and Technology (DST), Tefo Mohapi at iAfrikan, Ombola Johnson and Ido Sum at TLcom Capital, Amee Parbhoo and Ashley Lewis at Accion, Eline Blaauboer and Boldewijn Sloet at Africa Tech Ventures, Chika Nwobi at Rise Capital, Llew Claasen and Vinny Lingham at Newtown Partners, Liesel Pritzker Simmons and Lauren Cochran at Blue Haven Initiative, Leonard Stiegeler at Ringier, Grégoire de Padirac at Orange Digital Ventures, Tidjane DEME at Partech Ventures, Leticia Browne at Intelligent Capital Group, Candace Johnson, Yemi Keri and Rebecca Enonchong at Rising Tide Africa, Dr. Ashraf Abdelwahab and Djiba Diallo at Microsoft 4 Afrika, Maxime Bayen and Max Cuvellier at GSMA Ecosystem Accelerator, John Kimani and Monica Rucki at Google Developers Launchpad, and Sneha Shah, Saidah Nash Carter, Vuyo Dubese at Thomson Reuters Africa Innovation Lab.
The list goes on and there are many people that should be added to this overview. We are thankful to the more than 60,000 members that engage through the VC4A network and contribute to this community.
Ramping up our efforts in 2018
The work continues in 2018, and we invite you to engage the VC4A network in the New Year as we ramp up our efforts once again. At the end of the day, we know building a great company is one of the hardest things to do. The path is fraught with challenges and there are many reasons most founders will fail somewhere along the way. But here we can continue our efforts to unlock the network, capital, and knowledge required to improve their odds of success. Because if anything, the future we want needs to be defined by the greatest minds of our time, the talented innovators and entrepreneurs that transform today's greatest problems and challenges into the beautiful solutions and opportunities of tomorrow.