On February 22nd we hosted the first VC4Africa meetup in Oslo, Norway. This was the second event in the region, with a meet up held previously in Stockholm. This was a great step forward for the community and its great to see members taking a proactive approach to grow the VC4A network in the Nordic countries. We got into touch with the host Svein Mork Dahl to find out more.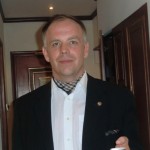 How did the Meetup go?
'The Meetup was a huge success. We even had people coming from Sweden to attend. The focus have been on Africa for the last year or so, so the timing was right. We endend up being about 20-30 persons ranging from investors, entrepreneurs and people from the government sector.'
First VC4Africa Meetup in Oslo, why did you decide it was time to step forward and organize such an event?
'I've been working in Africa for the last years, and see how the perception of Africa is changing in Norway. Africa is the last frontier, and people don't want to miss out on the opportunities there. I believed, rightly, that the time had come to organize an event on investments in Africa. We had some issues with the venue, a double booking, but people found the way to the Ice Bar in Oslo. It was kind of like Africa, not so easy to access, but a very pleasant destination when you find your way.'
How many people showed up and can you give us a breakdown of how attended?
'We were about 20-30 people attending. Some of them just out of curiosity, but there we're also attendants from the investment banks, and the investor community in Norway. My old colleagues and friends. It's kinda of funny. When I flew off to Africa some years ago because I believed Africa was ready for business most people thought I was crazy. I believe some even deleted my contact info, writing me off as a nutcase. Now the same people are queing to meet me to see how they can get involved. Africa is the last frontier, and there is no way you can stop an idea whose time has come. Africas time is now. There were also attendants from the African diaspora in Norway.'
Who was the most interesting person you met and why?
'The most interesting guy I met was Bert-Ola Bergstrand, a Phd-stipendiate from Sweden who works with Social Capital Forum. I've never met him before, but we've Skyped. It was also nice to meet Norwegian entrepreneurs looking at the opportunity to make change in Africa.'
What did you like about the meet up structure and what do you feel could be improved?
We had some issues with the venue, but that can easily be avoided for the next meetup. It's not too easy arranging something like this from Nairobi, but for the next meetup we have better options and people in Norway willing to host it. It's nice to meet people with the same goals and visions, and it's also good to know that you're not the only one with a vision of a prosperous future for the African continent. I hope most of the participants join VC4A and that we can keep in touch. I also hope we can do projects together.'
Tell us about yourself. How did you get hooked on Africa?
'My background is from finance and banking in Norway, but since 2007 I have worked mostly with entrepreneurship, SMEs and management consulting. I wanted to do something different for a while so I joined a NGO working in Kenya. We planned to build a school for solar technicians in the rural areas of Nyanza. When we succeeded (got the school funded) my contract was over. But I didn't want to return to Norway. I just saw this huge continent with such great potential that I wanted to be a part of the tranformation of Africa, so we decided to set up a business in Nairobi. We started out working as consultants for european businesses who wanted to establish themselves in the region, and we have simply expanded from there. We never looked back.'
You are setting up a fund. Can you tell us about this?
'With our partners we are setting up two funds for investments in Africa. One generalist fund targeting 20 million USD from high-net worth individuals from Norway, and the Biashara Fund which will invest 100 Million USD in agribusiness, ict/telecom and renewable energy. The fund is under establishment now, and we have a firm commitment of 30 million USD from our lead investors. We are mostly looking at investments in Sub-saharan Africa.'
What is the next milestone you seek to achieve?
First I will host the SEED investor forum in Nairobi this June. Then we will close the 100 million USD Biashara fund for investments in Africa by September.
What do you think of VC4Africa and how can members support you further?
'I love the VC4A community. It really helps to spread the word on all the great things happening on the continent. The members should keep up the good work. The perception of Africa is far worse than the actual state of Africa. That has to change.'
A final message for the community?
"Entrepreneurship is living a few years of your life like most people won't, so that you can spend the rest of your life like most people can't…" Live your dream…'
Thanks Svein. Thanks for making the effort to bring together members in your area. Indeed, this is a great way to engage new members and to extend the VC4A network. We are pleased to grant you the VC4Africa meet up badge and look forward to following your progress.
Interested in VC4A meet ups? We have meet ups scheduled for London, Abuja, Lusaka and Accra. If you are in the area please stop in at one of the meet ups, say hello and meet fellow members. And if you would like to organize your own meet up, feel free to sign up as a possible host or contact ben @vc4a.com.