In partnership with VC4Africa, Innoventures has been building a competitive startup accelerator in Cairo, Egypt since 2016. The inaugural program selected 11 companies that represent a new and exciting entrepreneurial energy coming out of Egypt at the moment. Now as Innoventures has just concluded recruiting our second class of startups, it is important to also look back on the companies that have participated in the program and to see how they are doing.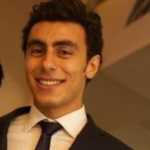 We contacted is Sameh Saleh, CEO of Tripdizer, an innovative technology company offering a unique, hassle-free, and affordable travel experience.
Tell us about yourself? How do you get involved in this business?
"I am an engineer from Egypt, 29 years old, with few years working in the oil and gas industry. I have been a traveler myself for the last 10 years. 2 Years ago I have founded together with my Team, Yara, Ziad & Hatem, a travel channel to help our fellow Egyptian and Arab youth to travel. We believed that traveling should be for everyone, not just the rich, it's doable, and its such a rich experience. we wanted to broadcast that idea to the world."
What is the driver behind your interest in this opportunity?
"Taking this a step further, we believed that just increasing awareness is not enough, so we have built a portal where anyone can just book the most affordable and customized trip in just few minutes. We are trying to accompany the unique experience that would fit each person, with the most affordable offer out there."
How do you see your team being able to add value in this space? Where do you look to contribute?
"We live in a world where the monopoly over education and resources are not as strong. From a small village in upper egypt, you could have access to all the courses for the best universities in the world. So now is the time where the Egyptian youth can really flourish the economy. I believe so much in our team. They are all qualified to solve the current problem with travel, in the best possible way. i see nothing to stop us from being a major company in the travel industry."
Can you tell me a bit about TripDizer? What is this company about? And how do you differentiate?
"Tripdizer is a one stop platform to book your desired trip with the best possible offer. The user will be asked to go through a simple and fun questionnaire, which will feed us with enough information to draft a customized itinerary that would suit the request. In the back end, This itinerary will be sent to most of the travel operators in the Egypt, and they will come back to us with the best offer, which we will forward to our customer in less than 24 hours."
What do you see as the big opportunity?
"The one thing we have in common is our team, we are all travel addicts, we know how to respond and cater for the users requests. also no other company in the region have developed this concept or has the operators database that we are currently building."
What do you see as the critical challenges for the business moving forward?
"The domestic market for outbound travel have been impacted with the current economic state. However we believe it will start to recover by end of this year."
What has been of help along the way? You participated in some programs? What did you gain from this?
"A great help was Innoventures and Startup Reactor in Cairo. This incubator have really accelerated our progress, and made our plans come to reality. We gained support financially and in mentor ship. i believe it's a huge success factor. The mentorship part was very important for us as the discussions we had helped us shape our startup and we manage to improve on a lot of aspects."
How are things going? What has happened since? Any numbers/milestones you can present?
"We received our first funding from Innoventures, then we won the Nova Pitching competition and finally we got Series B funding. Winning the Nova competition was very important for us as it gave us a huge exposure offline and online. We were able to expand our network and approach several investors. The process wasn't easy, we had several meetings where the investors raised all of their concerns and asked a lot of questions. We had to come up with the perfect strategy, detailed business plans, risk response plan, financial plans, future projections and of course a lot of data/research."
What are the things that have to happen now? How can people help?
"We have had very good traction so far, we have just surpassed 2,000,000 total video views on our online travel channel we grew our fan base by over 100,000 followers. We are now considered one of the top travel influencers in the Middle East and Africa region.
We are now focusing on making conversions and monetizing our online presence. Now we are building and increasing our operators data base, and also working on setting up the website to mobile platforms. People can help by spreading the idea."
Can you describe the entrepreneurial climate in Egypt now?
"I believe it has the potential to become a center of that kind of businesses in the Middle East. We have a huge number of skilled employees and graduates that are available and excited to join new startups. Egypt is one of the biggest consumer markets in the Middle East and Africa. The internet and business infrastructures have started to open up, which means its a great place to start a business."
How do you see the Egyptian ecosystem evolving? What are the strengths and weaknesses?
"Although the startup scene in Egypt is getting bigger every year, it is still very difficult to get funding but we are sure that the more success stories we have, the more investors will be interested. I believe there are great talents in Egypt, where great ideas' have been generated. There are a lot of problems are yet to be solved in Egypt, which is a great window of opportunity as many of the problems can be solved by migrating on a software environments. There is also big work force that is much affordable than anywhere else in the world, also the investment opportunities have started to flourish. The weakness in Egypt is the bureaucracy and the system."
What is your message to the VC4A community?
"It's a great honour to be part of this community. It's part of a big dream, where we see business and quality of life improving in Africa."
We are excited to see our companies make this kind of progress. As partners with the VC4A community, we are looking forward to welcoming many new parties to join, support and collaborate with the Egyptian startup ecosystem. We have serious talent eager to share their innovations with the world. Contact us to find out more about our programs and calendar of events.