Tshepo Ngaleka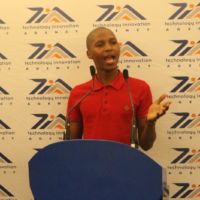 About Me
I am an ambitious, optimistic, harmonious, and idealistic individual who believes that there is nothing that has been thought of that can be created .I have hands of magic that enables my mind to give out the knowledge I have and share it with others to perform in an outstanding and immaculate way .I enjoy being in an environment that allows me to express my talents and abilities while gaining more information and wisdom.

I believe that life is not about waiting for the boat to come pick you up from the shore but swimming through the dangers just so you can meet it half way ,not about waiting for the storm to pass but learning to dance in the rain and not to look up to people just because they are better than you but because they are taller than me .

I am a captain of my own ship, the master of my own soul and the train driver to the future.
---
Personal Details
Seeking a mentor to enhance my business acumen
Opportunities to grow Picadoo
Entrepreneurial events and accelerator programs
To Offer
Local business development
Product Strategy
SME Business Administration
Talent Acquisition
Strategy Validation
Looking For
Finance, Product Development, Sales and Marketing
Activity