Today in Africa, there are opportunities for mobile operators and startups to collaborate. A new report by GSMA Ecosystem Accelerator programme dives into these collaborations and the synergies they can yield.
Although African startups have been at the forefront of innovation across the continent, many struggle to reach scale. Their struggles often stem from a combination of factors, such as the dearth of investment capital, lack of payment infrastructure, difficulty to reach unconnected users, a shortage of market insights and limited government support, among other challenges.
Likewise, mobile operators in Africa have touched the lives of hundreds of millions and reached impressive scale across all population segments. Nevertheless, they face a plethora of challenges. Sustainable competitive advantage in the telecommunications sector is becoming increasingly difficult to achieve. Digital disruption has made it difficult for mobile operators to keep up with the accelerating pace of innovation.
Today in Africa, mobile operators have reached the scale that startups lack, while startups have the local innovation mobile operators need.
Identifying synergies between mobile operators and startups in emerging markets
Based on the premise that mobile operators and startups are uniquely positioned to drive meaningful partnerships, our latest report outlines a framework that will help both parties identify potential areas of collaboration.
When it comes to scale and innovation, mobile operators and startups have certain "haves" and "needs" which can complement each other. As we looked at examples of relevant collaborations (including two featured case studies of collaborations between Safaricom and Eneza in Kenya and between MTN and Jumia across Africa), it became clear that these "haves" and "needs" primarily determine the potential synergies, or opportunities for collaboration.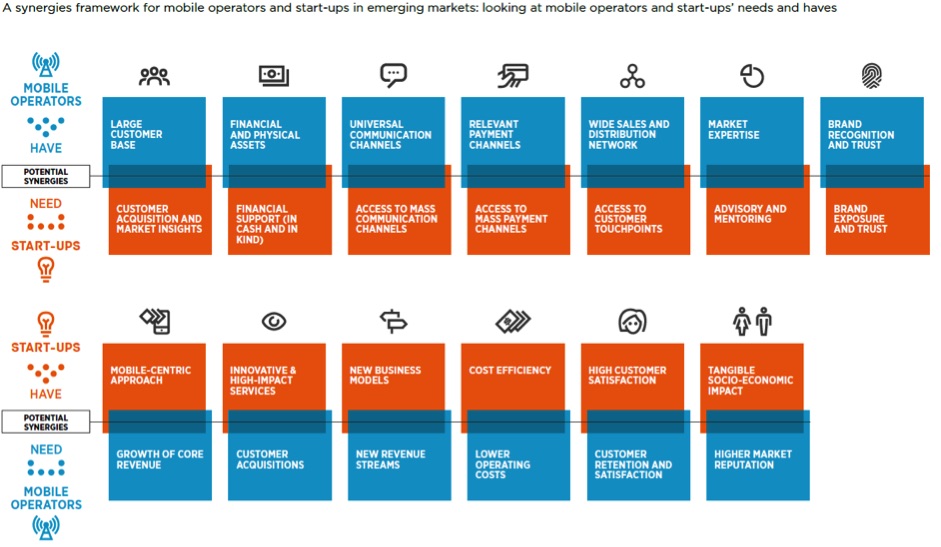 Our analysis of the synergies between mobile operators and startups in emerging markets yielded four main takeaways:
1. Any collaboration between a mobile operator and a startup needs to be balanced. Both parties need to benefit from the collaboration for it to make sense and be sustainable. Therefore, before going ahead with a partnership, mobile operators and startups need to clearly assess their haves and needs, and then use the framework above to identify specific opportunities for collaboration.
2. Mobile operators have a range of tools to accelerate a startup's growth. Financial support is only one of these tools. Mobile operators can also support startups with customer acquisition and market insights, brand exposure and trust, advisory and mentoring, and providing access to customer touchpoints, mass communication, and payments channels.
3. Mobile operators are uniquely positioned to create additional value across a range of industries. For example, in education (Safaricom and Eneza in Kenya), transportation (Orange and Mtick in Cote d'Ivoire) or energy (MTN and Nova Lumos in Nigeria). The ability of mobile operators to drive scale across other industries gives them an edge over other potential corporate partners.
4. Startups can help to address some of a mobile operator's key challenges. In the face of decelerating revenues and increasing competition in the telecommunications sector, startups can provide a way for mobile operators to stay relevant.
Download the full report: Building Synergies: How Mobile Operators and Startups Can Partner for Impact in Emerging Markets
GSMA Ecosystem Accelerator programme
The GSMA Ecosystem Accelerator programme focuses on bridging the gap between mobile operators and startups, enabling strong partnerships that foster the growth of innovative mobile products and services. These partnerships bring impactful mobile solutions to the people and places that need them most, generating the greatest socio-economic impact. In particular, the programme operates an Innovation Fund which supports African and Asian startups with direct funding, technical assistance, and connections with mobile operators.
The programme is supported by the GSMA, its members, and the UK Department for International Development (DFID). For more information: http://www.gsma.com/ecosystemaccelerator or get in touch at accelerator [at] gsma.com