The startup game in Ghana has been incredible since 2013. Increasing foreign direct investment year after year has made startups such as meQasa, FarmerLine, ExpressPay, InterPay, TroTroTractor, Asoriba, LetiArts, Snoocode, Viamo, Qisimah, and AFRadio extremely competitive.
They all focus on direct pain points in their respective value chains and it will surprise you when you hear about them. Be it business-to-business (B2B) merchant transactions, farmer-to-consumer (F2C), farmer-to-business (F2B), business-to-customer (B2C) or business-to-enterprises (B2E) — different business models are being tested and pushed out, which is beneficial for the ecosystem.
Ghana is late to the game of technology immersion but has been very diligent in terms of creating lone tech unicorns that have created niche market opportunities. In terms of a local ecosystem, there are three main components to this in Ghana — the government, the startups and the ecosystem builders. The objective moving forward is to become more inclusive, to seek better alignment with the government, and to pursue an ecosystem-driven policy agenda that will ensure long-term growth for Ghana's startup ecosystem.
VC4A Venture Finance in Africa research
For the fifth consecutive year VC4A has produced annual research and analysis to improve the understanding of Africa's startup movement. With the support of the Mastercard Foundation, VC4A publishes a pan-African study including 6 country specific deep dives. VC4A conducts this research to share the progress of the VC4A network and to help document the journey of the African startup community at large. Last year the research looked at different factors that determine venture success. The startup ecosystem research series looks at how these startup ecosystems add value to successful venture creation. Based on inputs from local expert Ashwin Ravichandran and 16 face-to-face interviews we aim to answer the following research question: 'How does the Ghana startup ecosystem add value?'
Ecosystem growth unraveled
The previous government administration was extremely focused on urban development, real estate, gold, cocoa and oil. The government didn't have a focus on what startups could do in terms of job creation. They often facilitated physical interventions and focused too much on awards, seminars, and global summits. With the most recent change of government, and new leadership at the Ministry of Foreign Affairs, Innovation and Business, there is a new push to pursue growth on a more strategic level. There is a renewed focus now on implementing key policies that are initiated by ecosystem builders, such as the National Entrepreneurship and Innovation Plan (NEIP). Doing so will help increase the alignment between the government, the startups and ecosystem builders.
Despite limited resources and infrastructure, the ecosystem builders in Ghana are offering robust support for the country's starting entrepreneurs. The likes of my own organization, MEST, which is focused on capacity building – coupled with a pan-African incubator network – is one such pure innovation, creation and disruption agency. While MEST is first and foremost focused on its own programs, the organization continues to engage other players in the industry, with the interest to grow and develop the larger startup ecosystem.
"The objective moving forward is to become more inclusive, to seek better alignment with the government, and to pursue an ecosystem-driven policy agenda that will ensure long-term growth for Ghana's startup ecosystem."
– Ashwin Ravichandran
HubAccra is what I like to call chaos within a structure, as they are pushing out coworking, incubation and acceleration offering under one umbrella, which is interesting. University-hosted accelerators such as GIMPA Business School and Ashesi are creating a wave of new startup talent by supporting graduates straight out of University. Surprisingly, embassies from different countries are interested in expanding knowledge transfer and the exchange of information and resources. For example, the French, Dutch and Indian governments are heavily focused on building good relationships with ecosystem builders active in this space, and with an eye towards future collaboration.
The ecosystem is flooded with a high number of events being organized. The President of Ghana, Nana Addo Dankwa Akufo-Addo, is often present at such events, to listen and support the ecosystem. The rise of foreign investor interest is clearly visible at such events as well, and as the startup ecosystem in Ghana continues to develop. Ghana will certainly continue to produce startups that are well recognized across the continent and internationally.
About Ravichandran
Before joining MEST as a technology fellow, Ashwin Ravichandran was active in the Indian startup scene, having worked with globally recognized IT players. He has worked with a diverse collection of startups and takes a holistic view to startup development, but where his core is in understanding customers to build amazing products with solid design. Ashwin assumed the management of the MEST incubator in 2016.
"These mapping studies help us learn how startup ecosystems are developing across the continent and identifies opportunities for their continued development."
– Ben White, Founder VC4A
VC4A data showing indicators of growth
VC4A research on 522 ventures registered in the country shows a clear relationship between venture performance and the support these ventures receive from the Ghanaian startup ecosystem. For example, 50% of companies participating in ecosystem support programs secure investment. Even more interesting, the average investment secured is more than 2.5 times higher for the ventures receiving ecosystem support: USD $322K vs USD $124K. These companies are also more likely to create new jobs.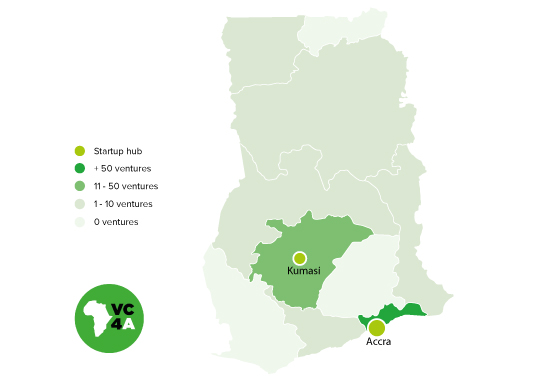 Graph 1: Overview of ventures registered on VC4A.com per region in Ghana
More specifically, 71% of the Ghanaian ventures are creating jobs with an average of 8.04 FTE per venture. When taking a further look at the age groups, 60% of the employees are between 12 and 35 years which is equal to the percentage that has been tracked by VC4A on a pan-African scale. This is a considerable contribution to the country given its growing population and justifies further investment in the growth and development of the startup ecosystem and the entrepreneurs it supports.

Graph 2: Average jobs created per age group in Ghana
About Venture Finance in Africa Research
VC4A research is made possible with support from the Mastercard Foundation and the Work in Progress Alliance. In addition to a pan-African view, the startup ecosystem research series deepens its annual analysis by adding six country deep dives in the following countries: Ghana, Kenya, Morocco, Nigeria, Senegal, and South Africa. These reports have been developed in collaboration with Dalberg Global Development Advisors and local experts in each country. The research explains in more detail what each startup ecosystem looks like and identifies opportunities for their continued development.
These mapping studies help us learn how startup ecosystems are developing across the continent. They include research and analysis on a variety of startup hubs, including Accra, Casablanca, Cape Town, Dakar, Johannesburg, Lagos, and Nairobi. Please contact the VC4A research team – thomas[at]vc4a[dot]com – if you are interested to discuss adding other African cities to this list.
A very special thanks to the people who we interviewed to write this analysis:
Ali Diallo MIT
Anna Samaké MBC Africa
Averi Thomas-Moore Accion Venture Lab
Ekow Mensah Tanoe
Els Boerhof Goodwell Investment
Jan Anne van der Veer Embassy of the Kingdom of the Netherlands to Ghana
Jorge Appiah Kumasi Hive
Josiah Kwesi Eyison iSpace
Kosi Yankey NBSSI
Leticia Browne Intelligent Capital
Patricia Safo JCS Investments
Paul Frimpong Africa Fintech Summit
Sangu Delle Golden Palm Investments
Simon Turner Challenges Worldwide
Victor Asemota Swiftacorp
William Senyo Impact Hub Accra
Want to learn more?
If you would like to download the report and receive full access to the Venture Finance in Africa research database with more country-specific reports and editions from previous years, register your VC4A Research Account now.