Rodrigue Fouafou ( AfricaConnects)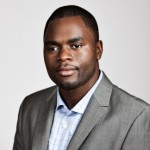 About Me
Rodrigue Fouafou (AfricaConnects) is an entrepreneur, computer engineer, startup investor, and business mentor. Currently, he is Co-Founder and CEO of HartNamtemah, Inc., a startup advising and investment firm in Toronto, Canada. HartNamtemah specializes in mentoring and funding African startups, working with investors interested in funding business ventures in Africa and other emerging markets.
---
Personal Details
Rodrigue Fouafou ( AfricaConnects)
I strongly believe in Africa. As a 12 year old boy, born in Bafoussam, West Cameroon, one of 32 children, I was unsure how to pursue my dreams of entrepreneurship and technology. Now I want to help young people, who, like me many years ago, are drowning from lack of opportunities to turn their dreams into realities. Let's grow Africa!
To Offer
Engineering and IT, Finance, Human Resources, Logistics and Supply Chain, Product Development, Sales and Marketing, Strategy and Planning
My goal is to assist entrepreneurs in the business technology and marketing field by providing strategies and ideas in order to achieve their targets and expand their businesses; allowing them to successfully become independent and game changers in their respective industries.
Activity